For Tom and Sue's 50th wedding anniversary, their children (Gary, Judy, Amy and Doug) and their grandchildren surprised them with this customized song from Song Legacy.

The original music for this song was composed by Lee Durley, and lyrics were written by Pami and Lee Durley. The vocalist on the audio file is Lee Durley.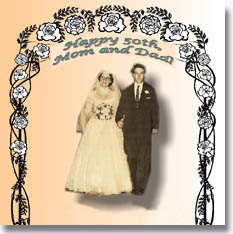 50th Anniversary Song CD cover



Here's an excerpt from what Judy (Tom and Sue's daughter) said about the customized 50th Anniversary Song:
Kathleen,

Everything went wonderfully! They (and everyone else that was there) LOVED the song. Of course, brought tears to everyone's eyes...it was a pretty emotional night! I want to thank you so much for all your efforts in getting this produced in such a timely manner.