Song Legacy created this custom song for Steve to present to his wife as a surprise on their 25th wedding anniversary. When Steve and Missy married 25 years ago in Hawaii, the Hawaiian Wedding Song was used at their ceremony.

Steve wanted something along those lines and Song Legacy created the perfect song for this occasion, with original music composed by Lee Durley. The personalized lyrics written by Lee and Pami Durley are based on details of Steve and Missy's life together, and the photos provided were used for illustrations on the lyric sheet, CD cover and label. We also created a personalized anniversary card matching the lyric sheet.

25th Anniversary Greeting Card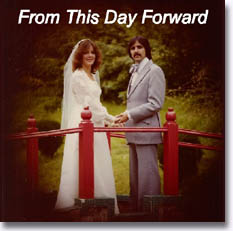 CD cover - front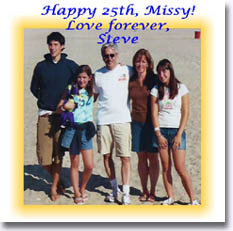 CD cover - back

Here's what Steve said about his customized 25th Anniversary Song:
Hi Kathleen,

Wow! You and your team did a fantastic job on the song! I cannot believe all of the detail ... the card was great ... I didn't even expect that. The lyrics ... the CD cover and most of all, the sound was excellent. The way he came across was so much like the way the Hawaiian Wedding song was done ... and in our words. Anyway, I cannot thank you enough! I gave her the card on the first night and did not say anything about the CD. She absolutely loved the card. I was not able to work it out to have it played when we were out somewhere, but as a backup, I asked that our room be supplied with a CD player. So the next evening I played it for her and she was in shock! She then drew the connection with the card from the day before. She was so happy that she played it several times that night. She will try to give you a call some time this week to thank you. What an incredible keepsake you and Lee have created for us! You do a great job and please pass the thanks along to Lee ... he was excellent!